Business Process Management: Strategies to Improve Performance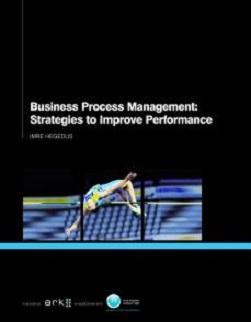 Published: January 2015
Publisher: Ark Group
Country of Publication: UK
Format: Paperback (141 pages)
Price: £245.00

Organisations today are experiencing more change, having to deal with more information, required to improve performance to new levels and are having to do so with fewer resources.
Ark Groups report - Business Process Management: Strategies to Improve Performance provides a complete roadmap with key models, methods, tools and checklists to assist you in planning and implementing strategies to improve business performance and measure success.
Bringing together a unique combination of experts from different perspectives of performance improvement, this report provides practical guidance on how to:
Effectively visualise and communicate key elements of your enterprise to senior executives;
Integrate process improvement and management tools to boost productivity;
Sustain performance improvement through learning, motivation and engagement strategies;
Understand the change process from both personal and enterprise perspectives; and
Take a strength-based approach to traditional process improvement and change management.
Key topics covered include:


Communicating complex BPI issues and solutions to the board;
Contemporary approaches to change management;
Managing personal and enterprise change;
Process improvement methodologies;
Improving through engagement – people-centric improvement;
Understanding the value of improvement;
Business process improvement lifecycles; and much more.
Gain critical guidance on how to boost organisational performance from both an individual and organisational perspective.