The Life of Patrick Hastings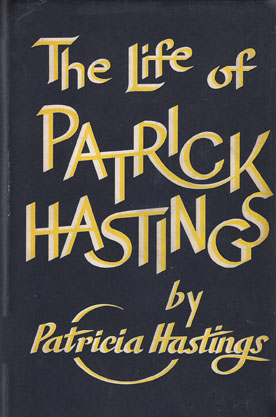 ISBN13: 004666
ISBN: 004666
Published: March 1959
Publisher: Heinemann Educational Books
Country of Publication: UK
Format: Hardback
Price: £14.00
(Second Hand)

Out of Print
With a Preface by Viscount Monckton of Brenchley
A famous advocate, like a famous actor, is rarely known to the public apart from his dramatic roles. Take away the professional panoply (the wig and fancy dress) and what is he really like? Miss Patricia Hastings answers for one famous barrister in this account of her father's life.
True, she recalls some of his great public appearances in her succinct summaries of, amongst others, the trials of Sievier, James Campbell, Lord Kylsant and Elvira Barney; but she never loses touch with her main theme, which is the man him¬self. First, the child of feckless parents; then the Boer War campaigner; the young man seeking a livelihood in journalism and, in-credibly, as a gold prospector in Wales; later the struggling junior at the Bar and, in the fullness of time, one of its acclaimed and most formidable leaders.
In her lively, affectionate and revealing study of the man, Miss Hastings does not conceal his odd quirks of character and tern- - perament or his often extravagant words and actions; but she also does justice to his cour¬age, his loyalty and other admirable qualities.
The bubble reputation of advocate and actor alike scarcely outlasts their death. Verba volent, scripta rnanent, and in this filial biography Sir Patrick Hastings survives to fascinate even those to whom he is only a distinguished name.