The Manx Law Reports - Complete Bound Volume Set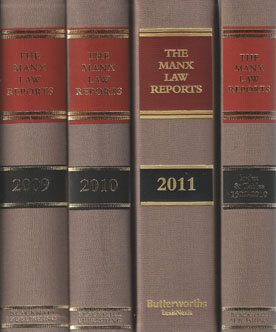 ISSN: 0267-534X
Publisher: Isle of Man Courts of Justice
Country of Publication: Isle of Man
Format: Bound Volumes
Price: Price on Application

The Manx Law Reports are the official series of reports for the Isle of Man. They provide an unbroken sequence of case law from 1522 to the present day. This series of books contain judicial opinions from a selection of case law decided by the Isle of Man Courts together with editorials and indexes to help users.
The current set consists of 21 volumes from 1522 to 2011 together with an Index volume from 1522 to 2010. The 2011 volume includes a CD containing a pdf of the material included in that volume.
All cases reported are approved by the Deemsters (the Isle of Man judges).
Coverage: Isle of Man courts:=
Decisions of the High Court of Justice (Civil matters)
Decisions on points of law in Court of General Gaol Delivery (Criminal matters)
Decisions of Staff of Government (Appeals) Division (Civil and Criminal appeals)
Decisions of lower courts (eg Summary Court (Criminal matters)). Lower court decisions tend to be included in the MLR as 'notes', not full-text reports.
Other courts:-
Decisions of the Privy Council on appeal from Isle of Man courts
External decisions which have direct impact on the laws of the Isle of Man (e.g. European Court of Justice and European Court of Human Rights)