Building Law Monthly: Print + Online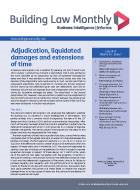 ISSN: 0957-0628
Latest Release: June 19, 2017
Publisher: Informa Subscriptions
Country of Publication: UK
Format: Newsletter + Online
Price: £950.00 + £190.00 VAT

Subscription Type: Annual Subscription
Domestic Renewal Price: £1140.00 including VAT of £190.00
Overseas Renewal Price: £1405.00
Usually despatched in 1 to 3 weeks.
Ten issues per year including online access.
Building Law Monthly, ensures construction professionals and legal advisors to the construction market know how the latest developments in construction law will affect them and their clients by providing essential facts from key judgments, commentary on legislation and proposals for reform.
Building Law Monthly covers judgments from the Technology and Construction Court, decisions from the Supreme Court and Court of Appeal and adjudication under the Housing Grants, Construction and Regeneration Act 1996 so you can rest assured you are always up to date.
Topics regularly covered include adjudication, arbitration, civil procedure rules, construction contracts, delay and disruption, construction insurance, damages, costs and many more.