HFM Compliance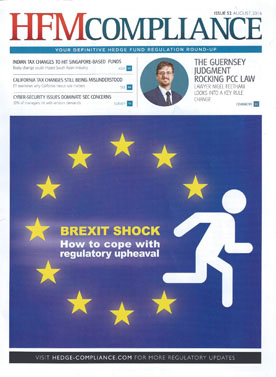 ISSN: 2054-3697
Publisher: Pageant Media
Country of Publication: UK
Format: Journal + PDF + Online
Price: £2390.00 + £478.00 VAT

Subscription Type: Annual Subscription
Domestic Renewal Price: £2686.00 including VAT of £478.00
Overseas Renewal Price: £2390.00
Usually despatched in 1 to 3 weeks.
HFMCompliance (formerly Hedge Compliance) provides practical insight on global regulatory, tax and compliance trends.
Access is for 12 months and includes:-
Print copy of HFM Compliance delivered to you directly every month
Digital PDF version into your inbox
Breaking news email alerts as and when they happen
Weekly news headlines round up email / newsletter
Exclusive entry into the HFM Week monthly breakfast briefings in NY & London
Invitations to other events such as workshops, Webinars, Private Dinners, Awards and Summits
Access to the HFM Databases –
HedgeCheck
- A regularly updated and fully searchable database of key metrics at both management firm and fund levels, including key personnel, current service providers, strategies and assets under management.
ComplianceCheck - A regulation database providing instant access to key compliance guidelines. HFM members can access insight on marketing, reporting, short-selling, tax and domiciliation rules in 50+ countries.
AllocatorCheck - A global database of active hedge fund allocators. Users of the database can search by allocator types - including pension funds, endowments, family offices and funds of hedge funds etc - and access full contact details.
VendorCheck - Make intelligent and informed buying decision with the HFM service directory, an all-inclusive database of key industry expert contact details.