Whigs & Hunters: The Origin of the Black Act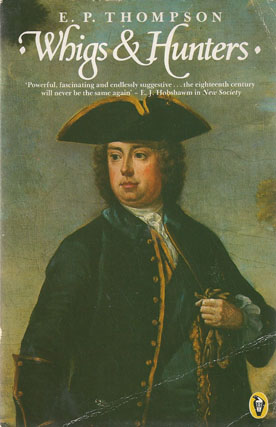 ISBN13: 9780140551297
ISBN: 0140551298
Published: August 1985
Publisher: Peregrine Books
Country of Publication: UK
Format: Paperback
Price: Out of print

Out of Print
1985 reprint of the 1977 Peregrine edition. Originally published by Allen Lane in 1975
With Whigs and Hunters: The Origin of the Black Act the author of The Making of the English Working Class, E. P. Thompson plunged into the murky waters of the early eighteenth century to chart the violently conflicting currents that boiled beneath the apparent calm of the time.
The subject is the Black Act, a law of unprecedented savagery passed by Parliament in 1723 to deal with 'wicked and evil-disposed men going armed in disguise'. These men were pillaging the royal forest of deer, conducting a running battle against the forest officers with blackmail, threats and violence.
These 'Blacks', however, were men of some substance; their protest (for such it was) took issue with the equally wholsesale plunder of the forest by Whig nominees to the forest offices. And Robert Walpole, still consolidating his power, took an active part in the prosecution of the 'Blacks'.
The episode is laden with political and social implications, affording us glimpses of considerable popular discontent, political chicanery, judicial inequity, corrupt ambition and crime.