How International Law Works: A Rational Choice Theory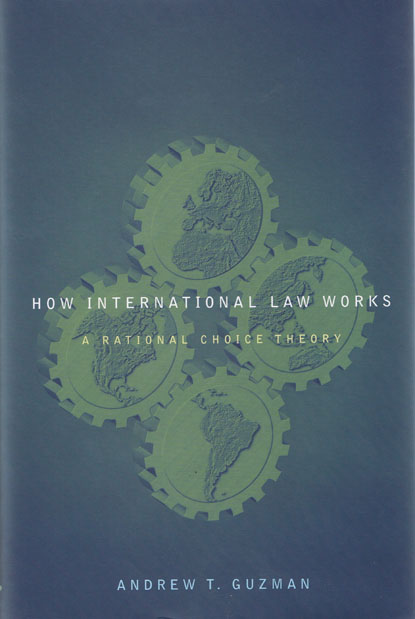 ISBN13: 9780195305562
Published: January 2008
Publisher: Oxford University Press
Country of Publication: UK
Format: Hardback
Price: £29.49

Despatched in 5 to 7 days.
International relations are full of appeals to and claims about international law. From intellectual property, to human rights, to environment, to investment, to health and safety, issues that have traditionally been almost exclusively within the purview of domestic lawmakers are now the subject of international legal obligations. Yet despite the importance of international law, there are no well-developed set of theories on the ways in which international law impacts domestic decision makers.
Filling a conspicuous gap in the legal literature, Andrew T. Guzman's How International Law Works develops a coherent theory of international law and applies that theory to the primary sources of law, treaties, customary international law, and soft law. Starting where most non-specialists start, Guzman looks at how a legal system without enforcement tools can succeed. If international law is not enforced through coercive tools, how is it enforced at all? And why would states comply with it?
Supporting the traditional international law view that international law matters and affects state behavior, Guzman offers a theory of international law that assumes states behave rationally and selfishly. The author argues that at the heart of compliance with international law is the basic fact that a failure to live up to legal obligations today will impact a country's ability to extract concessions for legal promises in the future. Under this reputational model, the violation of international law generates a costly loss of reputation and the threat of this loss provides an incentive to comply.
A reputational theory suggests when and where international law is likely to be effective and ways to maximize its ability to advance the goal of international cooperation. Understanding international law in a world of rational states helps us to understand when we can look to international law to resolve problems, and when we must accept that we live in an anarchic world and must leave some issues to politics.