Guide to Latin in International Law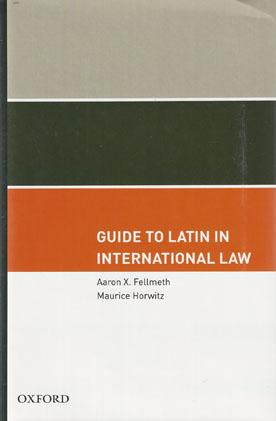 ISBN13: 9780195369380
Published: September 2009
Publisher: Oxford University Press
Country of Publication: USA
Format: Hardback
Price: £89.00

Despatched in 8 to 10 days.
As knowledge of Latin continues to diminish, the constant use of this language in cases, textbooks, treaties and scholarly works baffles law students, practitioners, and scholars alike. Most of the Latin terms commonly used by international lawyers are not included in some of the more popular law dictionaries. Terms and phrases included in modern dictionaries usually offer nothing more than a literal translation without sufficient explanation or context provided.
Guide to Latin in International Law provides a comprehensive approach and includes both literal translations and definitions with several useful innovations. Included is not only the modern English pronunciation but also the classical or "restored" pronunciation. Its etymology is more complete than the leading law dictionary on the market, and the definition for each term includes examples used in context whenever helpful. Each entry is also cross-referenced to related terms for ease of use. The editors make clear that the understanding of Latin is a critical skill for practitioners who hope to acquire and understand sources of law and each other.