Permit But Discourage: Regulating Excessive Consumption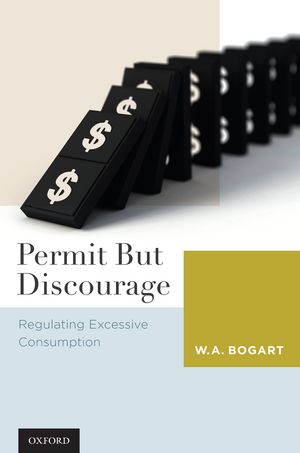 ISBN13: 9780195379877
Published: January 2011
Publisher: Oxford University Press USA
Country of Publication: USA
Format: Hardback
Price: £66.00

Despatched in 6 to 8 days.
Permit But Discourage: Regulating Excessive Consumption, by W.A. Bogart is the first book to focus on problem gambling and its regulation and to situate this analysis in the larger context of regulating excessive consumption. This work analyzes the effectiveness of law in controlling excessive consumption. It engages theoretical discussions concerning the effectiveness of legal intervention, especially regarding "normativity", the relationship between law and norms. It also argues that various forms of over consumption (alcohol, smoking, non-nutritious eating) can be more effectively controlled by altering norms regarding them so that such excesses can be suppressed to a greater extent.
Regulatory efforts are aimed not at forbidding consumption but at suppressing excessive aspects. In the case of tobacco this means zero consumption since there is no safe level of smoking. In contrast, in terms of alcohol, this means encouraging consumption of only moderate amounts. Addictive drugs are, generally, prohibited, and their use is criminalized. But there is a significant measure of public opinion that prohibition does more harm than good; that permit but discourage would produce better results. The battle against obesity, a contested concept, focuses on encouraging eating nutritious foods and being physically active.
The book then focuses on one form of consumption that is associated with major social issues: problem gambling. Regulation, to date, has been mostly on ensuring honesty regarding the various games and in promoting revenue enhancement for owners (often governments). However, in the face of the mounting evidence regarding the damage caused by those with impaired control, there are increasing calls for the regulatory frameworks to make "harm minimization" and related concepts a priority. "Harm minimization" brings permit but discourage to the fore in terms of gambling and problem gambling. Permit But Discourage examines a variety of legal interventions that could be used to address problem gambling.