Corporate Income Tax Law and Practice in the People's Republic of China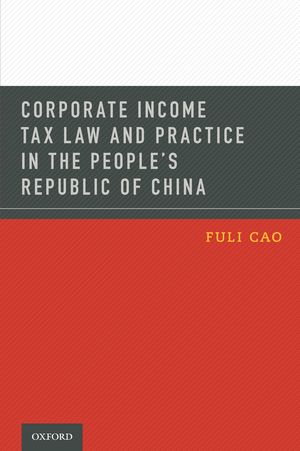 ISBN13: 9780195393392
Published: April 2011
Publisher: Oxford University Press USA
Country of Publication: USA
Format: Paperback
Price: £190.00

Despatched in 10 to 12 days.
Corporate Income Tax Law and Practice in the People's Republic of China provides a comprehensive analysis of China's corporate income tax law. A new corporate income tax law came into effect on January 1, 2008.
The new law unified the two corporate income tax systems that were applicable to domestic enterprises, foreign enterprises and foreign invested enterprises, respectively. A large portion of this book summarizes the new tax law, the implementation rules of the law, and the interpretation circulars issued by the Chinese tax authorities.
The mapping of sections of tax law, regulations, and circulars into the applicable areas of business transactions and operations is helpful to lawyers, accountants, and other professionals. Detailed citations allow readers to find the authorities at their original sources. Also included is some introductory and historical information for those who seek a general knowledge of China tax law.
One chapter is devoted to addressing major areas of tax treaties and agreements between China and other countries or regions. Tables summarizing the treaties with regards to permanent establishment, dividends, interest, royalties, and capital gains provide readers with a quick reference and an efficient means for comparative analysis. The issues of administration and enforcement of specific tax rules are discussed in various chapters. Separate chapters cover tax compliance and tax audit and appeals.
In addition, the book comments on various tax rules and offers a view of possible tax treatments in areas that have not been addressed or clearly addressed by the law, regulations and other authorities.