Australian Constitutional Law: Foundations and Theory 3rd ed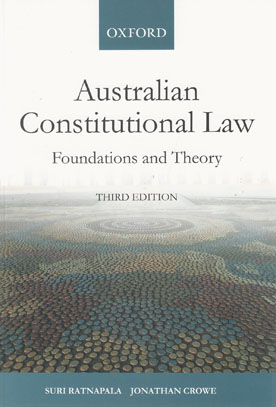 ISBN13: 9780195519037
Published: April 2012
Publisher: Oxford University Press
Country of Publication: Australia
Format: Paperback
Price: £79.99

Usually despatched in 1 to 3 weeks.
Australian Constitutional Law: Foundations and Theory, 3rd edition explains and evaluates the Australian constitutional system in relation to the classical principles of constitutional government such as the rule of law, separation of powers, representation, executive responsibility, federalism and fundamental rights.
In this third edition, Suri Ratnapala has been joined by Jonathan Crowe as co-author, and the book has been fully revised and expanded. The expansion has allowed wider coverage of: Australian Constitutionalism; Interpretation of the Constitution; Federal-State relations; International powers of the Commonwealth; and Trade, Commerce and Industrial Relations. Major developments in federal and State constitutional law receive critical discussion in this edition.
They include:-
Constitutional entrenchment of the supervisory jurisdiction of State Supreme Courts,
Strengthening of the separation of powers in the States through the doctrine of institutional integrity of courts,
Further clarifications on the judicial power of the Commonwealth,
Constitutional rules governing military courts,
Recognition of adult suffrage as a general constitutional rule,
Constitutionality of the Victorian Charter of Rights,
Recognition of the demand side in the freedom of interstate trade and commerce,
Extension of the just terms requirement to property acquisitions in the Territories and to regulatory takings,
Determining the limits of the use of federal and State courts in counter-terrorism and prevention of organised crime,
Limits on taxation power derived from the rule in the Melbourne Corporation Case,
Expansion of the corporations power into the field of industrial relations,
Clarifications on appropriation and spending powers.