Violin Fraud: Deception, Forgery, and Lawsuits in England and America 2nd ed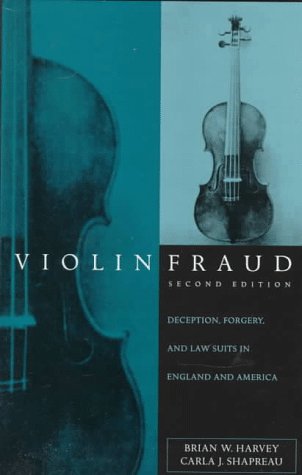 ISBN13: 9780198166559
ISBN: 0198166559
Published: November 1997
Publisher: Oxford University Press
Country of Publication: UK
Format: Hardback
Price: £86.00

Instruments of the violin family are well known to be exceptionally valuable if they are the work of an Italian master such as Stradivari or Guarneri. Unfortunately, in common with many other antique articles of value, the forger, the defrauder, and the thief operate in the world of the violin in a very conspicuous way. With varying degrees of skill labels are altered, certificates of origin are spuriously created, instruments are even made from new but disguised to look old and and reproduced the features of an old master.
Buyers, dealers, and even auction houses can easily make distressing and very expensive mistakes.;Many people who own instruments, or who are interested in buying them, want to know more about the dangers, the pitfalls, and the case histories of previous disasters. The law itself is widely misunderstood and its wide ambit not appreciated.
Those who contravene the law risk actions for civil damages as well as criminal prosecution, primarily by the ever more vigilant Trading Standards Department of local authorities.;It is the intention of this book to detect the background to this fraudulent activity and to explain how the law applies to it. Much of what is said applies to the antique world generally, but there are specific and pressing problems relating to string instruments which have not been analyzed in detail before and with which this book is particularly concerned.
This new edition includes a discussion of American law as it relates to to violin commerce, including a discussion of violin theft, fraud, contract and consignment issues, product disparagement, and slander, auction issues, tax issues, secret commissions, ethics, and intellectual property theft.;This book is intended for collectors, dealers, auctioneers of string instruments; practising lawyers concerned with the world of antiques,; Trading Standard Officers; violin teachers and players.