A Modern Treatise on the Law of Criminal Complicity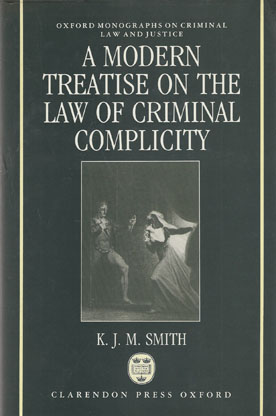 ISBN13: 9780198252382
ISBN: 0198252382
Published: June 1991
Publisher: Oxford University Press
Country of Publication: UK
Format: Hardback
Price: Out of print

Complicity is both structurally and conceptually a complex area of criminal law. This is partly a consequence of requiring a single supplementary form of liability relevant to most crimes.
Furthermore, the inherently problematic nature of such wide ranging liability is compounded by complicity's coverage of undesirable activities often some way removed, in distance and in time, from the more obvious core of harm defined in each substantive offence.
This frequently raises awkward fundamental policy dilemmas as to law's legitimate limits, representing prime examples of penumbral issues where the criminal law is operating, so to speak, on the outer edge of liability. Despite these underlying difficulties and complicity's considerable practical importance, its conceptual framework remains surprisingly undeveloped, resulting in extensive judicial uncertainty and conflicting case law.
This book seeks to explore and articulate complicity's theoretical foundations as a relatively self-contained criminalizing mechanism and to review its coherence within more general criminal law theory. Although the study's principal focus is English law, American and Commnwealth jurisdictionsd figure prominently to facilitate and inform discussion. The work is intended for criminal lawyers, both practitioners and academics, and students and scholars of criminal law