Foreign Affairs in English Courts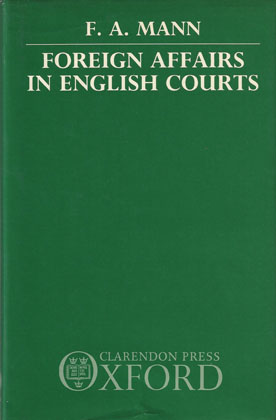 ISBN13: 9780198255642
ISBN: 0198255640
Published: August 1986
Publisher: Oxford University Press
Country of Publication: UK
Format: Hardback
Price: £78.00
(Second Hand)

F.A. Mann is considered to be one of the finest British lawyers of the twentieth century, esteemed as an international jurist and as a practising solicitor.
He combined a thriving and prestigious practice with a prolific output of writing and teaching, with much of his work centering on the inter-relationship of international and national law.
This book describes and analyses the attitudes and techniques which English judges adopt or ought to adopt when confronted with problems arising from the conduct of foreign policy by the executive.
Its central theme, therefore, is the relationship of the executive and the judiciary in matters involving foreign relations rather then the formulation of rules of substantive, whether municipal or international law.