The Oxford Encyclopaedia of European Community Law: Volume II - The Law of the Internal Market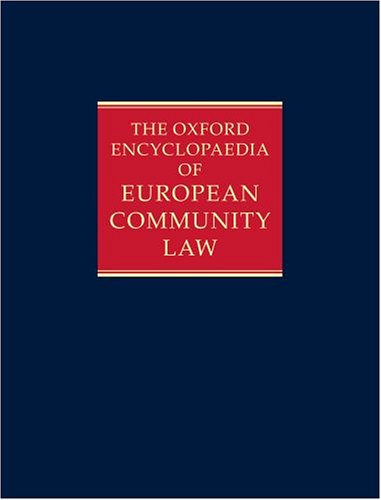 ISBN13: 9780198256007
ISBN: 0198256000
Published: March 2005
Publisher: Oxford University Press
Country of Publication: UK
Format: Hardback
Price: £320.00

Despatched in 1 to 3 days.
This is the second of three self-contained volumes, making up the Oxford Encyclopaedia of EC Law, a major reference work on the law of the European Community/Union. The first of its kind in any language, it provides an authoritative guide to the interpretation of Community law.
This volume focuses in particular upon those areas of Community law which are relevant to the creation and functioning of the internal market, such as the four freedoms, i.e. the free movement of goods, persons, services and capital, including the right of establishment; customs law; company law; intellectual property rights; sex equality law; social security law; public procurement; tax law; and related areas.
There will be a companion volume that focuses upon competition law and policy, while a new edition of the volume of the Encyclopaedia covering Institutional Law (first published 1991) will be produced once the fate of the European Constitution has been decided.
Each entry begins with a short definition of a term or concept, followed by a longer and more detailed explanation. The definitions and explanations are based on the Treaties and the legal acts of the institutions (secondary legislation), as interpreted in the extensive case-law of the European Court of Justice and the Court of First Instance, to which full references are made in the text. The volume thus contains a comprehensive and detailed coverage of its subject, reflecting the authoritative interpretation of Community law by the Community Courts.
The entries are arranged alphabetically, with a full list of entries at the beginning of the volume guiding the reader to the relevant term or concept. For ease of use, the book is thoroughly cross-referenced, and each entry is followed by a reading list to facilitate further research in a particular area. There are comprehensive tables of cases, Treaties, international agreements and secondary legislation, plus an Index to the entire volume.