Leading Cases in the Common Law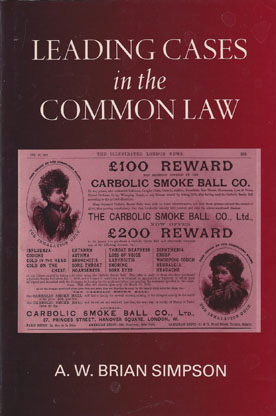 ISBN13: 9780198258520
ISBN: 0198258526
Published: June 1995
Publisher: Oxford University Press
Country of Publication: UK
Format: Hardback
Price: £50.00
(Second Hand)

Out of Print
Brian Simpson's new book addresses the phenomenon of the leading case-the judicial decision which acquires a timeless quality, coming to stand for some legal idea, principle, or doctrine thought to be central to the casuistic tradition of the common law.
How do such cases arise in the first place? Can we tell why they were decided as they were? How do they come to achieve their special status? By a detailed and meticulous investigation of their original historial context, and by tracing out their strange intellectual history, this book develops a highly original approach to the study of judicial decisions; one which represents an attack upon the deeply anti-empirical tradition of academic legal writing.
Written in an unpretentious style, and in a manner which assumes of the reader no special legal expertise, this book will appeal to all those who are interested in the cultural and social history of the law and of legal thought, and who like to combine intellectual stimulation with the innocent pleasure of a good read.