The Oxford History of the Laws of England Volume 2, 871-1216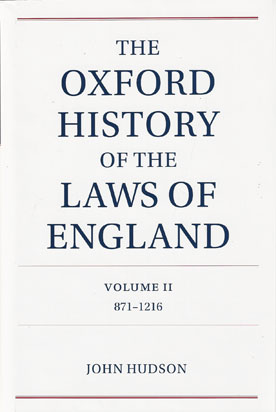 ISBN13: 9780198260301
Published: March 2012
Publisher: Oxford University Press
Country of Publication: UK
Format: Hardcover
Price: £195.00

Despatched in 3 to 5 days.
This volume in the landmark Oxford History of the Laws of England series spans three centuries that encompassed the tumultuous years of the Norman conquest, and during which the common law as we know it today began to emerge.
The first full-length treatment of all aspects of the early development of the English common law in a century, featuring extensive research into the original sources that bring the era to life, and providing an interpretative account, a detailed subject analysis, and fascinating glimpses into medieval disputes.
Starting with King Alfred (871-899), this book examines the particular contributions of the Anglo-Saxon period to the development of English law, including the development of a powerful machinery of royal government, significant aspects of a long-lasting court structure, and important elements of law relating to theft and violence. Until the reign of King Stephen (1135-54), these Anglo-Saxon contributions were maintained by the Norman rulers, whilst the Conquest of 1066 led to the development of key aspects of landholding that were to have a continuing effect on the emerging common law.
The Angevin period saw the establishment of more routine royal administration of justice, closer links between central government and individuals in the localities, and growing bureaucratization. Finally, the later twelfth and earlier thirteenth century saw influential changes in legal expertise. The book concludes with the rebellion against King John in 1215 and the production of the Magna Carta.
Laying out in exhaustive detail the origins of the English common law through the ninth to the early thirteenth centuries, this book will be essential reading for all legal historians and a vital work of reference for academics, students, and practitioners.
The most comprehensive history of medieval English law published for over one hundred years.
An accessible and lively account of the crucial development of the common law in the medieval period, allowing modern lawyers to see the earliest foundations of the law as we know it today.
Translates and quotes extensively from original sources, previously only available in Latin, Old English, and Old French, opening the sources for a wider range of readers.
Examines critical events in the development of the common law, including the Norman conquest and the Magna Carta.
Provides not only a history of law, but a history of the impact of law on English society, of value to historians of the period looking to understand the place of law in social and political life.