Resolution and Insolvency of Banks and Financial Institutions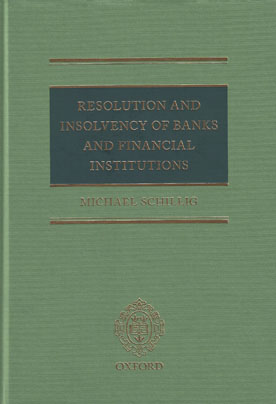 ISBN13: 9780198703587
Published: March 2016
Publisher: Oxford University Press
Country of Publication: UK
Format: Hardback
Price: £150.00

This book provides a detailed analysis and critical assessment of the EU and US resolution regimes for banks and financial institutions on a comparative basis.
The book analyses the EU legal framework under the Bank Recovery and Resolution Directive, and considers the challenges in national implementation through the two largest economies within the EU, Germany and the UK. The very influential laws of the US, (Securities Investor Protection Act 1970, and the Wall Street Reform and Consumer Protection Act: Dodd-Franck) are used as a comparative reference point.
Through analysis of the new EU framework and of the more mature system in the US, the book considers whether and to what extent the EU framework and national regimes contribute to ensuring resolvability of financial institutions, how their efficacy may be increased with a view, in particular, to the resolution of cross border groups, and what the future may hold, especially in respect of a single European resolution authority.