Bellamy & Child: European Union Law of Competition 7th ed with 1st Supplement and 2015 Materials Volume: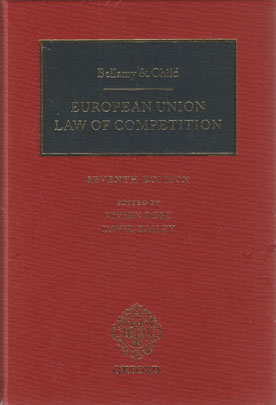 ISBN13: 9780198707820
Published: May 2014
Publisher: Oxford University Press
Country of Publication: UK
Format: Hardback, Supplement & Materials
Price: Out of print

This leading authority on EU competition law is now fully up to date for 2014 and an essential purchase for all EU competition law practitioners. The new pack includes the 7th edition main work, the first cumulative supplement incorporating all major developments in substantive law and case law, and an updated 2014 edition of the accompanying volume of EU competition law materials containing all the relevant legislation with cross-references to the main work.
The new edition of this eminent and authoritative work has been fully updated to encompass the major changes in substantive law, enforcement procedures and case law since the last edition in 2008.
The chapters have been reorganised to reflect current areas of important development with new chapters devoted to cartels, to fines and to litigating infringements in the national courts. The Commission's Horizontal Cooperation Guidelines have been extensively covered in a chapter devoted to non-covert horizontal agreements. There is also greater reference throughout this new edition to cases arising in the Member States.
The comprehensive accompanying volume of European Union competition law materials (edited by Andrew Macnab, a barrister at Monckton Chambers) has been fully updated to include all of the relevant legislation, Commission Notices and Guidelines, and provides detailed cross-references to the commentary in the main work.
Bellamy and Child is an invaluable and essential reference point for everyone involved in competition law.
The Materials were published in June 2015
The 1st Supplement was published in April 2014
The Main Work was published in March 2013
New chapters devoted to cartels, fines, and litigating infringements in the national courts, reflecting areas of important development
Extensive coverage of The Commission's Horizontal Cooperation Guidelines in a chapter devoted to non-covert horizontal agreements
Greater reference throughout this new edition to cases arising in the Member States
New to this edition


Increased focus on damages actions and enforcements in the national courts
Increased coverage of procedural aspects of cartels