Third Party Litigation Funding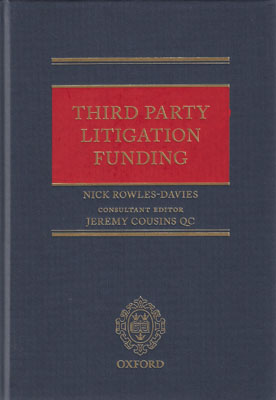 ISBN13: 9780198715924
Published: October 2014
Publisher: Oxford University Press
Country of Publication: UK
Format: Paperback
Price: £98.00

The use of third-party funding in the UK has been increasing and has moved into the mainstream as a funding option for clients involved in litigation, particularly following on from the positive endorsement of litigation funding by Lord Justice Jackson in his Review of Civil Litigation Costs where he said: 'I remain of the view that, in principle, third-party funding is beneficial and should be supported.'.
This has now culminated in the formation of the Association of Litigation Funders to monitor compliance and the launch of the Code of Conduct for those funding in England and Wales.
This practical guide to litigation funding provides the first comprehensive one-stop third-party funding reference to help practitioners in preparation for seeking funding and in their decision making. It examines the impact of the Jackson Reforms and Damages Based Agreements as well as the Code of Conduct and the Association of Litigation Funders.
It would also include practical examples and a review of notable cases, including the important decisions of Gulf Azov Shipping, Arkin, London & Regional and Merchantbridge and their impact on funders, solicitors, and clients.