Antitrust and Patent Law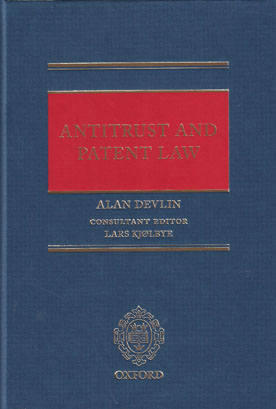 ISBN13: 9780198728979
Published: March 2016
Publisher: Oxford University Press
Country of Publication: UK
Format: Hardback
Price: £145.00

The interface of antitrust and intellectual property (IP) is complex, as the rapid development of technology markets drives rapid evolution in the law. This makes it increasingly important for legal practitioners to have a firm grasp of the policy concerns that inform antitrust limits on the use of proprietary technology.
This book examines the intersection of competition and patent laws from the perspective of both United States (US) and European Union (EU) law; this approach is essential for understanding current developments, as cutting-edge issues play out on both sides of the Atlantic. It also explores the economic theory which underlies the rules in these jurisdictions.
The first part introduces the essential features of antitrust and IP, the fraught boundary between them, and the law's recent developments. It discusses the extent to which the US patent regime is in crisis, and the benefits and dangers of the unified patent system recently adopted in Europe.
The second part explores the idiosyncratic nature of competition analysis of technology markets, and articulates a new framework for understanding antitrust and IP, focusing on the common thread of innovation. The third part explores the most pressing questions in IP-competition law today: the antitrust implications of patent holdup in the form of PAE activity and abuse of the standard-setting process. The fourth part analyses concerted practices surrounding the licensing and use of IPRs, and the controversial practice of pay-for-delay agreements in the pharmaceuticals sector.
The fifth part addresses perhaps the most contentious subject in the competition-IP sphere: the problem of predatory design, anticompetitive innovation, and interoperability requirements. Finally, the book focuses on the procedural and technical aspects of private litigation needed to translate a substantive violation into a realisable remedy.