Good Faith and International Economic Law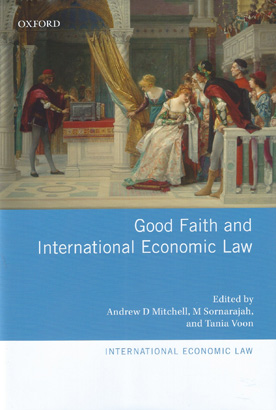 ISBN13: 9780198739791
Published: May 2015
Publisher: Oxford University Press
Country of Publication: UK
Format: Hardback
Price: £70.00

The past two decades have seen a significant proliferation of trade and investment treaties around the world. States are increasingly negotiating agreements that regulate both trade and investment, such as the Trans-Pacific Partnership Agreement and the Transatlantic Trade and Investment Partnership.
The number of investor-state dispute settlement cases is growing dramatically each year, yet states' enthusiasm for investor-state arbitration has become more qualified as concern has intensified that the system can be abused by foreign investors. Good faith is therefore becoming increasingly important as a principle, particularly in the investment context, due to disputes about investor conduct such as corporate restructuring in order to gain the protection of a particular investment treaty regarding an existing or foreseeable dispute, and States' responses to public policy concerns through attempts to modify or terminate investment treaties in the face of ongoing or expected claims. Tribunals adjudicating investment disputes have used the principle of good faith in a haphazard and uncoordinated manner, causing serious problems of uncertainty and inconsistency.
In response to these developments, this book contains the first comprehensive and integrated analysis of the treatment of good faith in international investment law, noting the broader implications of good faith in public international law and international trade law.