An Ever More Powerful Court?: The Political Constraints of Legal Integration in the European Union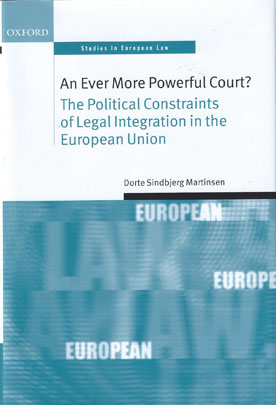 ISBN13: 9780198753391
Published: October 2015
Publisher: Oxford University Press
Country of Publication: UK
Format: Hardback
Price: £60.00

The Court of Justice of the European Union (CJEU) has become famed - and often shamed - for its political power. In scholarly literature, this supranational court has been regarded as a 'master of integration' for its capacity to strengthen integration, sometimes against the will of member states. In the public debate, the CJEU has been severely criticized for extending EU competences at the expense of the member states.
In An Ever More Powerful Court? The Political Constraints of Legal Integration in the European Union, Dorte Sindbjerg Martinsen challenges these views with her careful examination of how judicial-legislative interactions determine the scope and limits of European integration in the daily EU decision-making process.
Methodologically, the book takes a step forward in the examination of judicial influence, suggesting a 'law attainment' approach as a novel method, combined with a large set of interviews with the current decision-makers of social Europe.
Through a study of social policy developments from 1957 to 2014, as well as a critical analysis of three case studies - EU regulation of working time; patients' rights in cross-border healthcare; and EU posting of worker regulations - Martinsen reveals the dynamics behind legal and political integration and the CJEU's ability to foster political change for a European Union social policy.