Proprietary Rights and Insolvency 2nd ed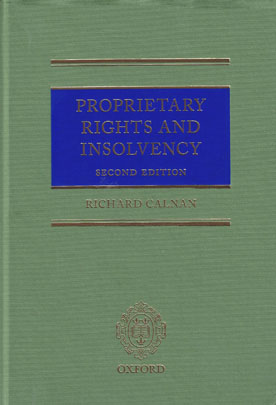 ISBN13: 9780198759386
Published: June 2016
Publisher: Oxford University Press
Country of Publication: UK
Format: Hardback
Price: £145.00

This book explains how a creditor of an insolvent debtor can take priority over other creditors by claiming a proprietary interest in assets held by the debtor, and concentrates on the circumstances in which proprietary interests are created by operation of law or are implied from the arrangements between the parties.
This is a subject of particular importance and difficulty in common law systems because of the changeable nature of equitable proprietary interests, and this book provides a clear and structured explanation of the current state of the law, with detailed reference to case law from England and Wales as well as Commonwealth jurisprudence, and suggests how it might be clarified and simplified by returning to first principles.
The new edition considers a number of important developments which pertain to proprietary rights and insolvency. It evaluates the key decision of the Supreme Court in FHR European Ventures v Cedar Capital Partners. Although this has settled the question of whether constructive trusts extend to bribes, it has raised more general issues regarding the approach of the courts to the imposition of proprietary remedies, which the book explores.
It also covers recent Privy Council and Court of Appeal decisions concerning constructive notice (Credit Agricole v Papadimitrou, Central Bank of Ecuador v Conticorp, and SFO v Lexi), as well as interesting issues concerning the new status of intangibles (Armstrong v Winnington) and the status of the anti-deprivation rule (Belmont Park v BNY). Proprietary Rights and Insolvency is a lucid and practical reference source on insolvency and property law.