Company Meetings: Law, Practice and Procedure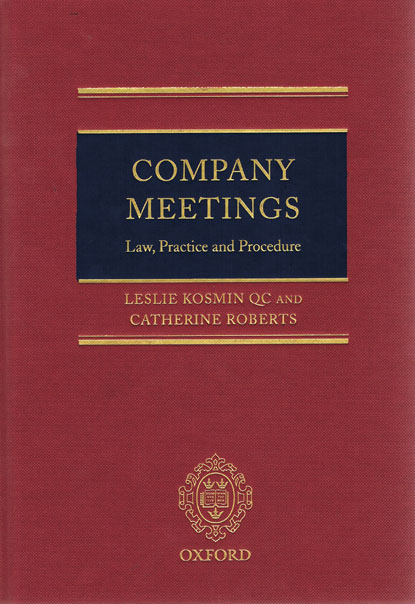 ISBN13: 9780199214549
Published: December 2008
Publisher: Oxford University Press
Country of Publication: UK
Format: Hardback
Price: Out of print

This book examines in detail the current law on company meetings (including meetings of directors and of shareholders) which has been developed by statute and legal decisions over the last 150 years.
The Companies Act 2006 constitutes the most radical reform of Company Law since the Companies Act 1985 and contains many new provisions which will have a material impact on the conduct of company meetings. Part 13 of the Companies Act 2006 contains important new provisions relating to the regulation of general meetings of members of companies. Company meetings are major events in the life of a company and it is essential that they be convened and conducted in a regular manner. This important new title has been written by two senior members of Erskine Chambers, the leading Company Law set, and is concerned with the law, practice and procedure of meetings of solvent companies (both public and private) at both shareholder and board levels.
The book reflects the changes introduced by Part 13 of the Companies Act 2006 as well as the existing case law. The book is divided into five parts. Part 1 (Chapters 1 to 18) deals with the regulation and procedure applicable to general meetings of members. Part 2 (Chapters 19 to 22) is concerned with meetings of directors. Part 3 contains a detailed and informative annotation of the underlying legislative regime that is found in Part 13 of the Companies Act 2006, which came into force on 1st October 2007. In Part 4 those provisions of the 1985 Table A that relate to meetings of members and directors are set out and commented upon. Finally, in Part 5 there is an annotation of the Draft Model Articles which are scheduled to come into force on 1st October 2009. This new title is to be published in December 2008.
This new work analyses these statutory provisions and explains how they are to operate in practice. In addition, it explains for practitioners the methods of avoiding many of the common pitfalls that may befall the unwary and suggests practical solutions for some of the problems that can arise when convening or holding a meeting.
Incorporates a clear and detailed explanation of the changes introduced by the Companies Act 2006.
Provides practical assistance for busy practitioners on difficult and new provisions such as those relating to meetings of directors
Includes extensive reference to case law
Written by two expert barristers from a leading company law set