Walker & Walker's English Legal System 10th ed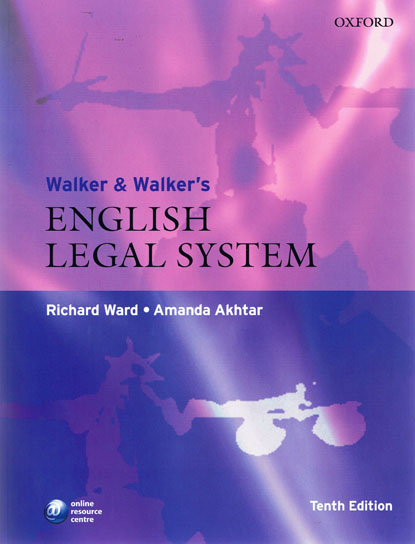 ISBN13: 9780199214877
Published: August 2008
Publisher: Oxford University Press
Country of Publication: UK
Format: Paperback
Price: Out of print

This established textbook provides a valuable point of learning and reference for students. The authors offer a clear and authoritative explanation of the main principles, rules, and issues involved in the English legal system, to create an essential tool for all students who need to understand this important subject. The central issues are illustrated through the use of a wide range of case law, which helps to bring the subject to life and demonstrates its practical application.
Features such as chapter introductions and summaries, diagrams, further reading suggestions, and recommended websites allow students to navigate easily through the text, consolidate their knowledge and understanding, and conduct focused and relevant further study.
A new Online Resource Centre provides updates to relevant case law and legislation to ensure students can continue to benefit from this reliable text whilst keeping up to date with developments in the law since its publication.
The authors retain a clear approach and focus on integrating judicial and legislative developments, to ensure students stay up to date with the ever-evolving legal system
Focuses on providing a clear and detailed exposition of the main principles, rules, and issues involved in the legal system, while touching on some of the more challenging and controversial areas open to debate, to ensure students gain a well-rounded picture of this important topic
A well-chosen selection of case law illustrates the important rules and principles of the English legal system, helping students to appreciate how the law operates in practice
Features detailed discussion of the Human Rights Act 1998 and the European Convention on Human Rights helping students to integrate these important legislations into their studies and to understand the implications for the legal system as a whole
Chapter features such as introductions, summaries, diagrams, further reading, and web links allow students to check their understanding, consolidate their knowledge, as well as benefit from directed further study
New to this edition:
Expanded coverage of the Human Rights Act and its implications reflects the importance of the legislation and ensures this text continues to meet the needs of students
More detailed discussion of the distinction between the civil and criminal processes encourages increased clarity and understanding of this fundamental area
Revised coverage of judicial process and methodology; EU law; legal services; civil procedure; and the police ensures the text continues to map well to undergraduate courses
Chapter features such as introductions, summaries, diagrams, further reading, and web links allow students to check their understanding, consolidate their knowledge, as well as benefit from directed further study
A new Online Resource Centre features updates on key cases and legislation to ensure the text continues to be up to date throughout the life of the edition, plus the further web links provide a platform for reliable and focused online research