Reputation and Defamation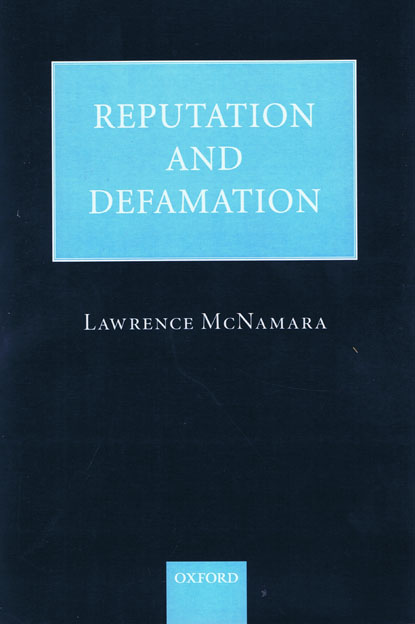 ISBN13: 9780199231454
Published: December 2007
Publisher: Oxford University Press
Country of Publication: Australia
Format: Hardback
Price: £95.00

Despatched in 5 to 7 days.
The proposition that the tort of defamation protects reputation has long been axiomatic in the law. The axiom's endurance is surprising: it has long been observed that the law is riddled with inconsistencies and, moreover, the courts and the scholarly literature have rarely discussed exactly what reputation is and how judgments about reputation are made. Reputation and Defamation develops a theory of reputation and uses it to analyse, evaluate and propose a revision of the law. It is the first book to present a comprehensive study of what reputation is, how it functions, and how it is and should be protected under the law.
Reputation, it argues, is best understood in terms of the moral judgments a community makes about its members. Viewed in this way it becomes apparent, contrary to the legal orthodoxy, that defamation law did not really aim and function to protect reputation until the early nineteenth century. Unfortunately, the modern common law has not paid sufficient attention to either the nature of reputation or the historical relationship between reputation and defamation. Consequently, the tests for what is defamatory do not always protect reputation adequately or appropriately.
The 'shun and avoid' and 'ridicule' tests have developed so that a publication may be actionable even where it does not tend to prompt a negative moral judgment of the plaintiff. These tests should be discarded. The principal 'lowering the estimation' test, however, is for the most part appropriately geared to the protection of reputation. Importantly, the scope of legal protection has been limited. Words will only be actionable if they tend to make 'right-thinking' people think the less of the plaintiff. The values of Christian tradition and Victorian moralism which became embedded in the concept of 'the right-thinking person' are problematic in the current era of moral diversity.
A revised legal framework is proposed. It retains the principal test but re-thinks how and why different criteria for moral judgment should - or should not - be recognised when courts determine whether an attack on reputation will be actionable as defamation. It is argued that 'the right-thinking person' should be associated with an inclusive liberal premise of equal moral worth and a shared commitment to moral diversity. The proposed framework demands that when courts recognise values at odds with that premise then such recognition must be justified on sound and expressly stated ethical grounds. That demand serves to protect reputation appropriately and effectively in an age of moral diversity.