Thomas Hobbes: Writing on Common Law and Hereditary Right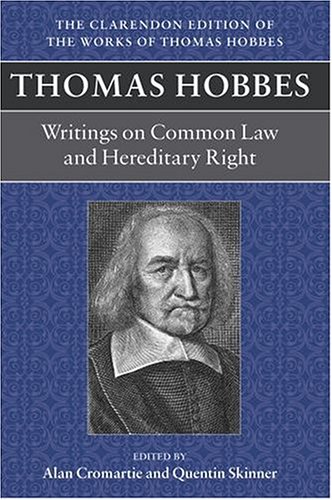 ISBN13: 9780199236237
Published: February 2008
Publisher: Oxford University Press
Country of Publication: UK
Format: Paperback
Price: £33.99

Despatched in 3 to 5 days.
This volume in the Clarendon Edition of the Works of Thomas Hobbes contains A dialogue between a philosopher and a student, of the common laws of England, edited by Alan Cromartie, supplemented by the important fragment on the issue of regal succession, 'Questions relative to Hereditary Right', discovered and edited by Quentin Skinner.
The former work is the last of Hobbes's major political writings. As a critique of common law by a great philosopher, it should be essential reading for anybody interested in English political thought or legal theory. Although it was written when Hobbes was at least eighty, it is a lively piece of work that goes beyond a recapitulation of earlier Hobbesian doctrines, not least in applying his central ideas to the details of the English constitution.
This edition supplies the extensive annotation on matters of legal and historical detail that is required by non-specialist readers; it also assists students by offering cross-references to other treatises. Cromartie's introduction is an authoritative account of seventeenth-century thinking about the common law and of Hobbes's shifting attitudes towards it. It has often been suspected that the book was motivated by fear of being burned for heresy. Cromartie disentangles the complex evidence (scattered across a number of late works) that documents this fear's development, and shows why the philosopher's acute anxieties eventually led him to write a legal treatise. In clarifying these questions, the edition casts fresh light upon his attitude to law and sovereignty.
The second piece takes the form of a question put to Hobbes about the right of succession under hereditary monarchies, together with Hobbes's response. The question is in the handwriting of the fourth Earl of Devonshire, the son of the third Earl, whom Hobbes had tutored in the 1630s. He asks Hobbes whether an heir can be excluded if he is incapable of protecting his prospective subjects. The question of 'exclusion' became the most burning issue in English politics in the course of 1679, when a bill to exclude the future James II was introduced into the House of Commons. Hobbes answers with a robust defence of hereditary right, in the course of which he also makes some important general observations about the concept of a right. The manuscript is also of special interest as it constitutes Hobbes's last word on politics. It was almost certainly written in the summer of 1679, less than six months before Hobbes's death.