Criminal Costs: A Practical Guide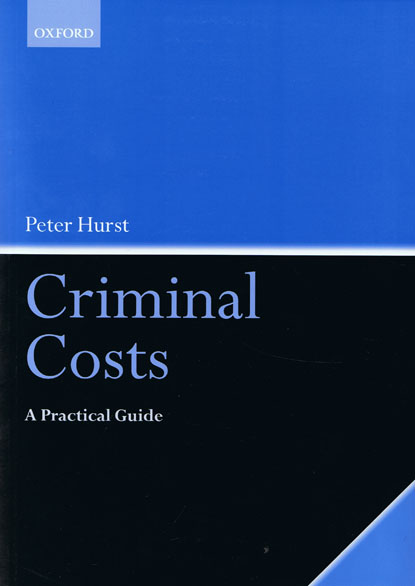 ISBN13: 9780199236244
Published: December 2007
Publisher: Oxford University Press
Country of Publication: UK
Format: Paperback
Price: Out of print

The provisions relating to costs in criminal cases are extensive and complex. Recent legislation - notably the Access to Justice Act 1999 and the regulations made under it - has brought about a fundamental change in the way criminal costs and legal aid funding work. There has been a continuing stream of statutory provisions covering all aspects of Criminal Defence Service funding, recovery of defence costs orders, and contribution orders. Lord Carter's proposals for reform promise continuing developments in this field.
Practitioners need to have access to and an understanding of the disparate array of materials relating to these matters as well as costs out of Central Funds (defendants' costs orders) and the award of costs in criminal cases.
This new work explains the criminal costs regime in a clear and accessible manner. It sets out the law and practice governing the award of costs, practitioners' fees; the principles on which fees are assessed as well as guidance on the assessment process and appeals. The book guides practitioners through applicable procedures in the Magistrates' Courts, the Crown Court, the Divisional Court and the Court of Appeal. It explains the criteria to be applied when the court is considering an award of costs in criminal proceedings, or when it is dealing with Criminal Defence Service funded work and Recovery of Defence Costs Orders.
First dedicated book on this subject
Written by Senior Costs Judge Peter Hurst, who has been at the heart of decision making on costs, it provides the most authoritative analysis available
Provides a thorough understanding of the criminal costs regime under the General Criminal Contract and related legislation
Provides a full statement of the law and practice governing practitioners' fees, including the General Criminal Contract, graduated fees, fees in high cost cases and fees assessed ex post facto for counsel. Also dealt with are the fee schemes for prosecuting advocates and witness expenses
Informs Judges of appropriate orders, the requirements for and principles applicable to the making of such orders, and their effect
Informs legal representatives which orders to seek - or seek to avoid - and the effect of any order which is made
Sets out correct practice and procedure for those claiming costs - out of Central Funds, the Criminal Defence Service Fund, Wasted Costs or an order for costs against an opposing party
Expert guidance on related civil procedures e.g. under the Proceeds of Crime Act 2002
The appendices contain a comprehensive selection of statutory material together with other hard to find materials