Summary Assessment of Costs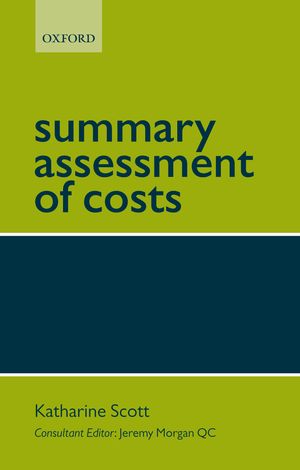 ISBN13: 9780199298211
ISBN: 0199298211
Published: May 2006
Publisher: Oxford University Press
Country of Publication: UK
Format: Paperback
Price: £48.49

Under the Civil Procedure Rules 1998 a court must carry out a summary assessment of costs in any trial or hearing that lasts one day or less. Practitioners who prepare for and represent clients in such hearings can greatly improve their client's chances of reducing their liability for costs, or enhancing the level of costs they can recover, if they are well-versed in the relevant costs law and procedure. This is a practical and portable guide which contains everything practitioners and judges need to know in order to conduct a summary assessment of costs in the County Court, or the High Court or the Court of Appeal.
Arranged in a logical and accessible way, which enables reference at a a glance, the book includes expert commentary and analysis on the most commonly arising issues, carefully selected appendices, and checklists aimed at the busy practitioner. The book is fully up-to-date to include the November 2005 reforms to CFA regulations.
Examples of areas covered are: when summary assessments are appropriate, what order the parties should be asking for, the impact of Part 36 offers and the conduct of the parties, issues arising from the funding of the claim, and pointers on how to prepare, attack and defend a costs schedule. In addition to key statutory material and extracts from the Civil Procedure Rules 1998, the appendices include SCCO guideline rates for solicitors' and barristers' fees, and relevant solicitors' costs materials.
Complete practical guide to preparing for and conducting a summary assessment of costs hearing
Slim and light volume: easy to carry and take to every court hearing
Contains expert guidance and case law on the most commonly arising issues, including preparation of the schedule of costs, increasing recovery of costs, and how to challenge a successful party's bill of costs
Up to date to include the November 2005 reforms to CFA regulations
Includes all key Civil Procedure Rules and statutory materials on costs
Clear layout allows for easy, at a glance, reference in the adjournment period before an assessment hearing
Comprehensive checklists assist with preparation
Contains information about further resources for more in depth analysis