Statutory Nuisance: Law and Practice 2nd ed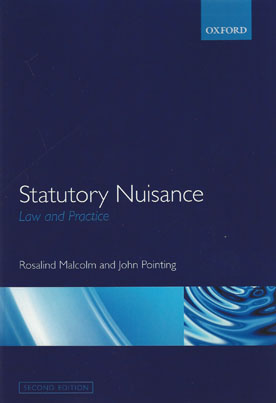 ISBN13: 9780199564026
Published: September 2011
Publisher: Oxford University Press
Country of Publication: UK
Format: Paperback
Price: £97.00

Statutory Nuisance: Law and Practice offers a comprehensive resource for practitioners in the legal and environmental health professions, guiding the reader through the complex practical and legal issues associated with statutory nuisance.
It focuses on the problems that local authorities face in enforcing this area, as well as the issues facing those advising defendants. This title examines the role, powers, and duties of the local authorities, and the problems associated with drafting abatement notices and with the prosecution of nuisances. It also covers defences and proceedings brought by private individuals against neighbours and local authority landlords.
The book analyses what happens in court, considering in detail the procedure and requirements in appeals against notices and in prosecutions, as well as the grounds for bringing further appeals and judicial review. It covers important recent decisions and key legislation.
This new edition provides an update on the various types of statutory nuisance, additional chapters on new forms of statutory nuisance, and expanded material on adjacent areas of enforcement to statutory nuisance, notably those arising from the Anti-Social Behaviour agenda.