The Qur'an: English Translation with Parallel Arabic Text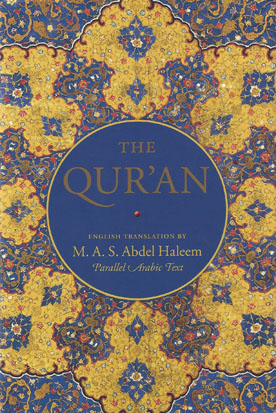 ISBN13: 9780199570713
Published: April 2010
Publisher: Oxford University Press
Country of Publication: UK
Format: Hardback
Price: £25.00

Despatched in 2 to 4 days.
The Qur'an, believed by Muslims to be the word of God, was revealed to the Prophet Muhammad over 1400 years ago.
Recognized as the greatest literary masterpiece in Arabic, the sacred text has nevertheless remained difficult to understand in its English translations. First published in 2004, M. A. S. Abdel Haleern's translation has been acclaimed for its success in avoiding archaism and cryptic language to produce a version that is both faithful to the original and easy to read.
Now for the first time it is published with the original Arabic text to give a greater appreciation and understanding of the holy book. The traditional Arabic calligraphic pages are displayed alongside the English translation, which has been revised for this new edition.
A useful general introduction on the revelation, stylistic features, issues of interpretation and translation of the Qur'an is included, together with summaries of each sura, essential footnotes and an index. The verses are individually numbered to facilitate comparison with the Arabic.
It is an edition both for those familiar with the Qur'an and for those coming to it for the first time; the message of the Qur'an was directly addressed to all people regardless of class, gender, or age, and this dual-language edition is equally accessible to everyone.
The translation by M.A.S. Abdel Haleem, is approved by Al-Azhar in Cairo the world leading authority on Qur'anic, Islamic and Arabic Studies.