Blackstone's Guide to The Equality Act 2010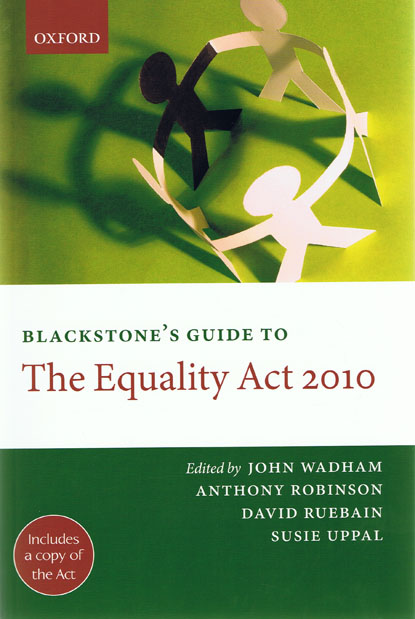 ISBN13: 9780199576104
Published: August 2010
Publisher: Oxford University Press
Country of Publication: UK
Format: Paperback
Price: Out of print

The Blackstone's Guide Series delivers concise and accessible books covering the latest legislative changes and amendments.
Published soon after enactment, they offer expert commentary by leading names on the extent, scope, and effects of the legislation, plus a full copy of the Act itself. They offer a cost-effective solution to key information needs and are the perfect companion for any practitioner needing to get up to speed with the latest changes.
The most significant piece of discrimination legislation in recent years, the new Act repeals a number of the major pieces of discrimination legislation. It imposes a new socio-economic duty on public authorities to consider the desirability of exercising their functions in a way designed to reduce the inequalities of outcome resulting from socio-economic disadvantage.
It defines nine protected characteristics: age, disability, combined grounds, gender reassignment, marriage and civil partnership, race, religion or belief, sex, and sexual orientation, and includes protection against discrimination in the provision of services, premises, work and education.
This new Blackstone's Guide combines the full text of the Act with an expert narrative. It seeks to explain the scope and impact of the Act, including the civil liberties implications, and to bring practitioners up-to-date. Presented in a straightforward and logical layout, it enables ease of use as a reference source.