Bar Manual: Test Yourself in Evidence, Civil Procedure, Criminal Procedure and Sentencing 16th ed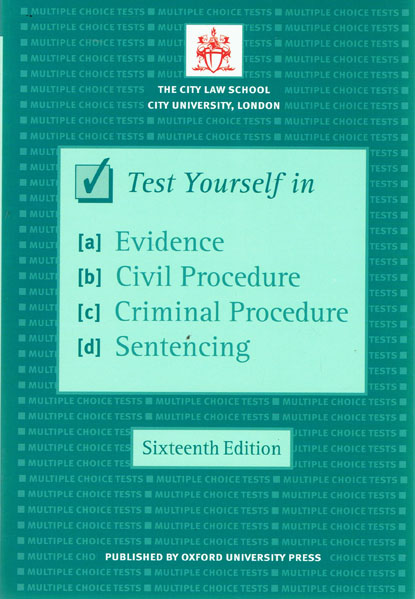 ISBN13: 9780199579228
Published: December 2009
Publisher: Oxford University Press
Country of Publication: UK
Format: Paperback
Price: £26.99

Providing over 130 challenging multiple-choice questions, together with note-form answers, this book is the ideal revision aid for students on the Bar Professional Training Course. Test Yourself allows students to quickly and easily reinforce their knowledge of key principles, procedures, and leading cases in the areas of evidence, civil procedure, criminal procedure, and sentencing.
Offering students the opportunity to practice undertaking multiple-choice questions, which may be similar to those met in assessments, Test Yourself can be used as a tool by students to not only test their knowledge and comprehension of key legal principles, but can also be used to identify any weaknesses in knowledge, in indicating areas where further study is required.
Answers to all questions are provided at the end of the tests, along with accompanying feedback sections which fully explain the answer to each question, and which also provide useful tips on how to approach such questions in an exam, providing an excellent starting point for further revision.
New to this edition:-
The book has been updated to reflect recent changes to the Civil Procedure Rules