Competition Law 7th ed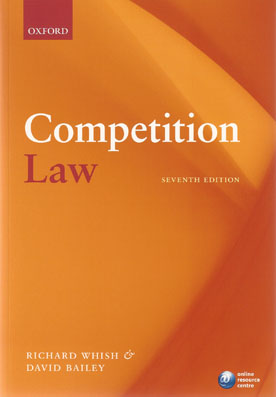 ISBN13: 9780199586554
Published: January 2012
Publisher: Oxford University Press
Country of Publication: UK
Format: Paperback
Price: Out of print

Richard Whish's Competition Law is the definitive textbook on this subject.
The author's authoritative treatment of the area is matched by a lively and easy-to-follow writing style, making this book an indispensable resource for undergraduate and postgraduate law and economics students, as well as for practitioners and officials involved in competition law.
Explaining the economic context within which competition law operates in the UK, EC and internationally, Whish looks at the constituent parts of the law and analyzes how they affect commercial phenomena.
Key aspects are examined in detail, including:-
mergers,
horizontal and vertical agreements,
the Abuse of Dominance,
Intellectual Property and the obligations of Member States under the EC.
The book also scrutinizes fundamental Acts and Articles - Competition Act 1998; Enterprise Act 2002; Articles 81 and 82 - providing readers with context, consequences and an overview of how these are applied in practice.