Land Law: Text Cases and Materials 2nd ed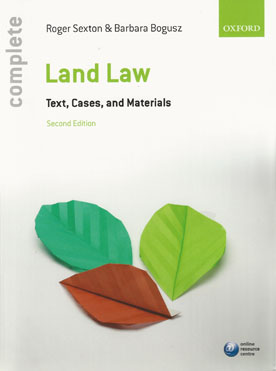 ISBN13: 9780199596812
Published: July 2011
Publisher: Oxford University Press
Country of Publication: UK
Format: Paperback
Price: Out of print

Complete Land Law: Text, Cases, & Materials offers a student-centred approach to the land law syllabus. Clear and concise explanation of general legal principles is combined with fully integrated extracts from the leading cases and a wide range of academic materials.
The extracts have been carefully selected to ensure that they are detailed enough to illustrate the point of law under consideration, but succinct enough not to disrupt the flow of the text or to intimidate the student new to the study of land law.
The book has been carefully structured with the needs of the student firmly in mind. Each chapter begins by highlighting the learning objectives and uses numerous features including 'think' boxes, definition boxes and figures and diagrams to ensure that the student is guided through the principles of the law in a clear and uncomplicated way.
Complete Land Law is written in a practical and accessible style designed to engage the reader from the outset and the attractive and contemporary two-colour page design will make it easy for students to use the text as well as serving to highlight the features that will aid their learning experience.
This innovative text will engage the reader in an active approach to learning and to stimulate reflection about the role of land law in practice.