Modern Land Law 5th ed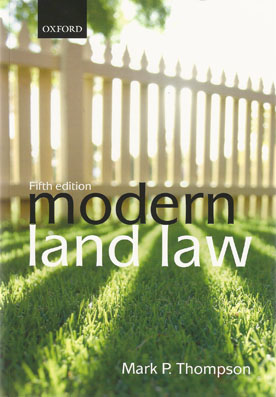 ISBN13: 9780199641376
Published: July 2012
Publisher: Oxford University Press
Country of Publication: UK
Format: Paperback
Price: Out of print

Modern Land Law offers fresh and contemporary coverage of a traditionally difficult subject.
Mark Thompson moves away from the typically dense, black-letter approach adopted by many textbooks to take a more engaging look at the social context within which land law operates.
The book is structured to reflect the key topics that are typically covered on the LLB, making it ideal for use as a main textbook, and the contextual approach and selective coverage ensure that it offers in-depth and rigorous analysis and discussion.
The author excels in explaining difficult rules and concepts clearly but without oversimplification, and guides students around the common pitfalls in areas where there is typically misunderstanding or confusion.
The fifth edition includes extended coverage of the Human Rights Act in land law; new coverage of the developments concerning estoppel; and expansion of the chapters on easements and covenants, to take full account of the final Law Commission proposals relating to these areas. Coverage of the family home has been revised to deal with the impact of Stack v Dowden and the Supreme Court decision on Kernott v Jones.