Company Directors: Duties, Liabilities and Remedies 2nd ed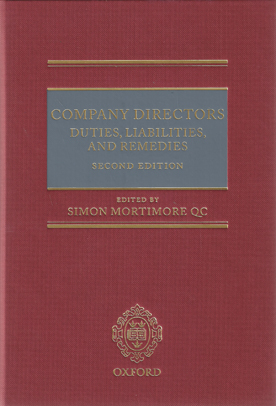 ISBN13: 9780199645312
Published: January 2013
Publisher: Oxford University Press
Country of Publication: UK
Format: Hardback
Price: Out of print

Wildy's Book of the Month: February 2013
The second edition of this highly acclaimed standard reference work on company directors provides analysis of the many important cases which have materially changed the law and provides an update on the myriad of subordinate legislation passed since first publication.
Crucially, this new edition also includes more depth of analysis on dynamic areas and has been expanded to cover additional topics. Extensive rewriting of chapters on derivative claims, unfair prejudice, and reorganizations take into account new judgments such as Lesini v Westrip Holdings Ltd [2011] and Re Neath Rugby Ltd (No 2), Hawkes v Cuddy (No 2) [2010] in which the Court of Appeal partly reversed a decision discussed in the first edition.
New to this edition are additional sections on attribution, directors' liabilities to third parties, and the interpretation of a company's constitution. For the first time the book includes a chapter dedicated to tax law specific to directors recognizing this as a specialist and important area.
The chapter on criminal liability analyses the broad changes which will be made to the law on corruption by the Bribery Act 2010 when the Act comes into force. This new edition is a complete reference on the law relating to company directors and is the first port of call for all serious corporate lawyers and scholars on this subject.