Corporate Internal Investigations: An International Guide 2nd ed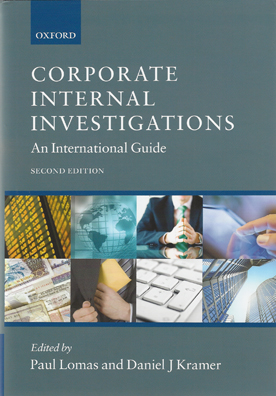 ISBN13: 9780199645329
Published: January 2013
Publisher: Oxford University Press
Country of Publication: UK
Format: Hardback
Price: £120.00

This text remains the only book to analyse corporate internal investigations on an international level, covering the applicable law in each jurisdiction and providing guidance on how an integrated international investigation should be conducted.
Since the first edition of the book, the area of corporate internal investigations has grown in importance and recognition. Demands for investigations are on the rise as the internal markets and the press become ever more critical of unethical corporate behaviour, and demand higher standards and closer regulation.
The new edition of Corporate Internal Investigations addresses the recent legislative changes, including the long-awaited UK Bribery Act, and the new rules on whistleblowing and the Dodd Frank Act in the US. Many of these developments, including the adoption of OECD (Organisation for Economic Co-operation and Development) based anti-corruption legislation by countries such as Russia, China and India, will increase enforcement activity and the need for investigations.
The need for advice and guidance on internal investigations is also increasing as companies move into emerging markets and face much greater risk. This second edition provides a vital tool in assisting companies and their legal advisers with planning for and conducting internal corporate investigations.