EU Mediation Law and Practice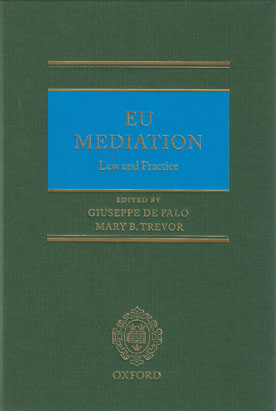 ISBN13: 9780199660988
Published: October 2012
Publisher: Oxford University Press
Country of Publication: UK
Format: Hardback
Price: £150.00

A practical reference on the EU rules and international initiatives that impact directly on EU cross-border disputes, this handbook is a must-have for any practitioner of cross-border mediation.
The EU Mediation Directive 2008/52/EC laid down obligations on EU Member States to encourage quality of mediators and providers across specific compliance considerations, including codes of conduct and training, court referral, enforceability of mediated settlements, confidentiality of mediation, the effect of mediation on limitation periods, and encouraging public information.
The book is organized into clear and consistent themes, structured and numbered in a common format to provide easily accessible provisions and commentary across the essential considerations of the Directive. All EU countries which have complied, along with Denmark (which opted out of implementing the Directive), or attempted to comply, with the Directive are included, allowing straightforward comparison of key issues across the different countries in this important and evolving area.
Supplementary points of practical use, such as statistics on the success rates of mediation and advice on the requirements for parties to participate in mediation, and for parties and lawyers to consider mediation, add further value to the jurisdiction-specific commentary.
A comparative table of the mediation laws forms an invaluable quick-reference appendix for an overview and comparison of the information of each jurisdiction, together with English translations of each country's mediation law or legislative provisions. Address this dynamic area of law with the benefit of guidance across all elements of the Directive impacting practice, provided by respected and experienced editors from the knowledgeable European authority in mediation, ADR Center, along with a host of expert contributors.