Tort Law 3rd ed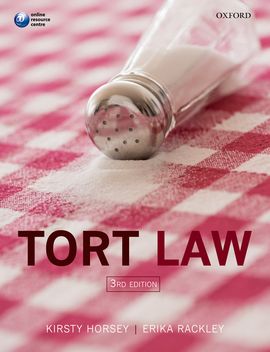 ISBN13: 9780199661893
Published: July 2013
Publisher: Oxford University Press
Country of Publication: UK
Format: Paperback
Price: Out of print

Tort Law will benefit anyone seeking a fresh and stimulating account of the law. Written in a lively and thought-provoking style, this book encourages the reader to understand, engage with, and critically reflect upon tort law.
Pedagogical features (including 'pause for reflection' and 'counterpoint' boxes) foster debate about the way tort law is, why it is this way, and how it could be different. Tort Law also provides diagrams and tables, chapter summaries, end-of-chapter questions, and annotated lists of further reading.
Where appropriate, chapters open with a problem question to place the law in its practical context and to illustrate how to apply the theory. Annotated versions of the problem questions give students pointers on how to answer them, and outline answers are available on the book's accompanying Online Resource Centre.
Tort Law is essential reading for all students studying at degree level or on the GDL.
Problem questions are included at the start of relevant chapters. This grounds the theory in practical examples right from the start and gives students valuable guidance and practice for answering worked-through problem questions. Annotated versions of the problem questions can be found in the appendix, and further pointers online.
Innovative pedagogical features such as 'counterpoint' and 'pause for reflection' boxes highlight contentious areas of the law and encourage students to think more deeply and critically about the law.
Clear exposition of the law and case boxes in each chapter ensure students have a solid black-letter basis upon which to develop a critical appreciation of tort law.
Diagrams and tables are used where appropriate to clarify key points.
End-of-chapter questions and selected further reading assist independent learning and provide areas for discussion in seminars or tutorials.
Extensive Online Resource Centre which includes downloadable annotated judgments, statutes and problem questions, answer guidance to questions in the book, glossary, annotated web links, and additional content on elements of a claim in the tort of negligence and product liability. For lecturers, there are also extensive resources, including a customisable test bank of 200 questions.
New to this edition


QR codes enable quick and easy access to an extensive and fully updated Online Resource Centre
Revised and updated text including key legal developments particularly in the areas of vicarious liability, defamation, privacy, and compensation.
New cases include:
Van Colle v UK [2012]; X, Y & Z v UK [2011] (public body liability)
Lumba (Congo) v Secretary of State for the Home Department [2011]; Austin v UK [2012] (false imprisonment)
Jones v Kaney [201] (negligent misstatement)
Rabone v Pennine Care NHS Trust [2012] (omissions)
Catholic Child Welfare Society v Various Claimants [2012] (vicarious liability)
Flood v Times Newspapers Ltd [2012] (defamation)
Mosley v UK [2012] (privacy)
Ministry of Defence v AB [2012] (causation and limitation periods)
Stannard (t/a Wyvern Tyres) v Gore [2012] (application of Rylands v Fletcher)