Murphy on Evidence 13th ed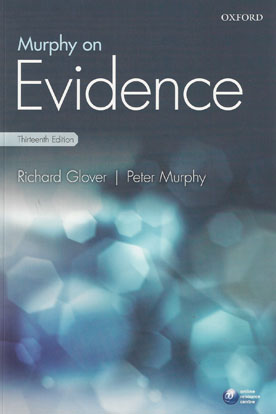 ISBN13: 9780199669875
Published: June 2013
Publisher: Oxford University Press
Country of Publication: UK
Format: Paperback
Price: Out of print

Murphy on Evidence is firmly established as a leading text for use on undergraduate law courses and in preparation for professional examinations. Frequently consulted by judges and practitioners and regularly cited in judgments, it has come to be regarded as a work of authority throughout the common law world.
The book's unique approach effectively bridges the gap between academic study of the law of evidence and its application in practice, combining detailed analysis of the law with a wealth of practical information about how it is used in the courtroom.
As in previous editions, the author's teaching method is centred around two realistic case studies - one criminal and one civil - presenting challenging evidence issues and questions for discussion at the end of each chapter. The case study material for this new edition has been further developed with new podcasts and videos on the Online Resource Centre.
Fully up to date with the latest developments in this fast moving subject, the thirteenth edition of Murphy on Evidence is as indispensable as its predecessors. Online Resource Centre The book is accompanied by an Online Resource Centre, which contains: - Regular updates to the text - A list of useful web links - Supporting documents and multimedia resources for the two fictitious cases - A range of multiple-choice questions enabling students to test their knowledge.