Contemporary Intellectual Property: Law and Policy 3rd ed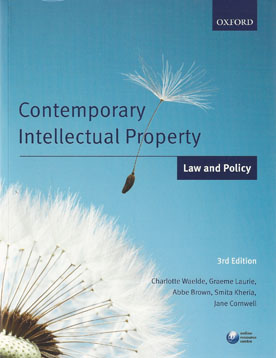 ISBN13: 9780199671823
Published: November 2013
Publisher: Oxford University Press
Country of Publication: UK
Format: Paperback
Price: Out of print

Contemporary Intellectual Property: Law and Policy offers a unique perspective on intellectual property law, unrivalled amongst IP textbooks available today.
Beyond providing an up-to-date account of intellectual property law, the text examines the complex policies that inform and guide modern IP law at the domestic (including Scottish), European and international levels, giving the reader a true insight into the discipline and the shape of things to come.
The focus is on contemporary challenges to intellectual property law and policy and the reader is encouraged to engage critically both with the text and the subject matter.
Carefully developed to ensure that the complexities of the subject are addressed in a clear and approachable manner, the extensive use of practical examples, exercises and visual aids throughout the text enliven the subject and stimulate the reader.
An accessible introduction to intellectual property law which provides not only a comprehensive account of the substantive law, but also discusses the over-arching policies directing the legal decision making, as well as controversies and areas for further debate
Intellectual property law is an increasingly global subject and as such ontemporary Intellectual Property introduces the relevant European and international dimensions to ensure that you can gain a realistic view of the law as it actually operates
Explores intellectual property law as an organic and developing discipline, evaluating the success with which the law has been able to respond to new challenges
The combination of images and diagrams, with analysis of key cases and key extracts are all incorporated alongside the author commentary to clearly illustrate the core principles in intellectual property law
New to this edition


This edition includes a new chapter, 'Control of information, reputation and intellectual property' offering expanded coverage on such issues as; commercialising reputation, personality rights, personal privacy, and publicity.
Fully updated key case law and legislation.