Legal Systems and Skills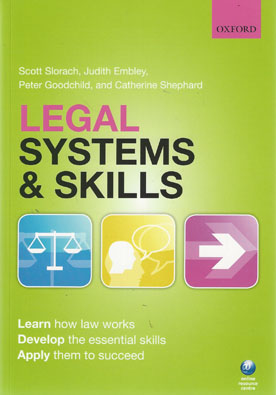 ISBN13: 9780199676194
Published: July 2013
Publisher: Oxford University Press
Country of Publication: UK
Format: Paperback
Price: Out of print

Legal Systems and Skills provides students with the essential knowledge and skills they require to underpin their legal studies, providing a foundation for graduate employability both within and outside the legal service profession.
It develops students' understanding in 3 core areas:-
Essential legal systems: delivering a holistic and contemporary understanding of the purpose and practical application of law, with consideration of social, moral, and jurisprudential perspectives. Contemporary application is a key theme and students are encouraged to consider the current function of legal systems and their effect on individuals, businesses and commerce.
Essential legal skills: demonstrating step-by-step approaches to enhancing the skills law students require academically and in subsequent employment. Students are assisted in developing their own strategies to research, read and understand law more effectively, to analyse and apply the law to solve legal problems, and to communicate legal concepts and solutions in writing and orally.
Essential professional development and commercial awareness: encouraging students to develop professional skills early in their studies. A dedicated chapter on employability skills introduces students to the skills and competencies which all employers, but particularly those in the legal services sector, value. Four unique chapters on commercial awareness challenge students to reflect on and actively improve their own commercial awareness through a number of business case studies, practice interview questions and activities, making this section of the book perfect for self-directed study.
Delivering a wealth of illustrative examples, diagrams, jargon-busters, and thought-provoking questions to enhance critical skills,
Legal Systems and Skills
is the essential contemporary toolkit for savvy law students.
Online Resources: This text is accompanied by an innovative online resource centre offering a range of stimulating resources, including:-
Podcasts providing a variety of perspectives on the legal system
Self-test questions
The authors' guidance on the thought-provoking questions in the book
A library of weblinks for students