Patent Enforcement in the US, Germany and Japan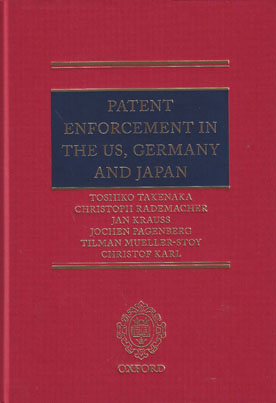 ISBN13: 9780199679201
Published: December 2015
Publisher: Oxford University Press
Country of Publication: UK
Format: Hardback
Price: £75.00

The United States, Germany, and Japan constitute the three most significant patent systems, but there is considerable variation in procedure and jurisprudence between them.
A comparison of these systems for patent enforcement can illuminate historical pathways and contemporary conduits to address contemporary challenges and encourage the adoption of new legal ideas.
This book provides a comprehensive guide to the extent of patent protection, validity challenges, enforcement procedures, and infringement remedies in these three major jurisdictions. By examining the major provisions of patent statutes and court decisions in these markets, it explores fundamental patent theories and principles, evaluates current systems, and proposes best practice for patent enforcement in developed, emerging, and frontier markets.
Comparative analysis and historical jurisprudence of the three core paradigms in patent enforcement will to help readers to develop a more nuanced understanding of current systems and how a legal innovation in one jurisdiction is adopted in others.
Authored by a team of academics and experienced patent practitioners, it provides invaluable first-hand experience and insightful discussion of patent jurisprudence that will be of great interest to academics, policy-makers and practitioners alike.