Blackstone's Senior Investigating Officer's Handbook 3rd ed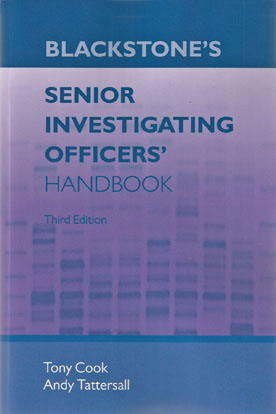 ISBN13: 9780199681839
Published: March 2014
Publisher: Oxford University Press
Country of Publication: UK
Format: Pocketbook
Price: Out of print

Blackstone's Senior Investigating Officers' Handbook is designed specifically to meet the quick-reference needs of any officer conducting a major investigation.
The only portable step-by-step guide to the processes and actions involved in the role of a Senior Investigating Officer (SIO), it explains all the relevant procedures and instructions integral to the position in a clear and accessible style.
Now in its third edition, this Handbook takes you through all the stages inherent to an SIO's role: from decision making to the initial response and crime scene examination to setting up and managing an investigation, investigative strategies, forensic pathology and liaison with the media.
Particular attention is paid to dealing with crime scenes, particularly terrorist-related, using social networking websites to good advantage, and investigating the sudden and unexplained deaths of children. Whether you conduct, review, or take a professional interest in major crime investigations, this title will be an invaluable resource. The first practical guide to this important role, it is a must-have reference tool for any SIO or prospective SIO.