Blackstone's Police Q&A 2014: General Police Duties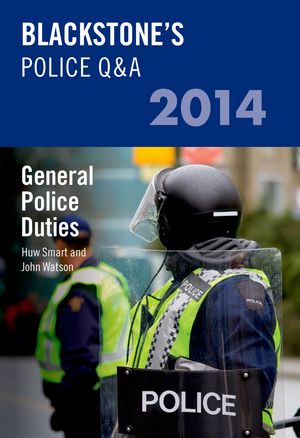 ISBN13: 9780199682096
Published: August 2013
Publisher: Oxford University Press
Country of Publication: UK
Format: Paperback
Price: Out of print

Blackstone's Police Q&As 2014 are essential revision tools for all police officers sitting the OSPRE Part 1 promotion examinations. Written in partnership with the best-selling Blackstone's Police Manuals, the only study guides endorsed by the College of Policing, the Q&As' experienced author team follow subjects in the same sequence as the Manuals, providing the most authoritative means of self-testing outside of the Promotion Examinations.
Blackstone's Police Q&A: General Police Duties 2014 contains hundreds of multiple-choice questions designed to reinforce knowledge and understanding of the General Police Duties Manual. Matching the format of the promotion examinations, each Question has a detailed and comprehensive Answer that highlights not only the correct response, but also the reasoning behind the incorrect responses, allowing candidates to highlight any gaps or weaknesses in their knowledge. Full cross-references to the relevant Manual paragraphs and Keynotes support more effective studying and a question checklist helps candidates track their progress. The 2014 editions of this popular series contain important updates, reflecting changes to the 2014 versions of the Blackstone's Police Manuals.
This new edition on General Police Duties includes new questions onthe Legal Aid, Sentencing and Punishment of Offenders Act 2012, the Protection of Freedoms Act 2012, the Terrorism Act 2000, the Counter-Terrorism Act 2008, and the Crime And Security Act 2010, as well as revisions to PACE Code G. Other titles in the series are: Crime Q&A 2014, Evidence and Procedure Q&A 2014, and Road Policing Q&A 2014. This product is not endorsed by the College of Policing.