The Project of Positivism in International Law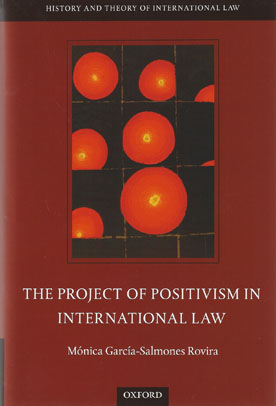 ISBN13: 9780199685202
Published: November 2013
Publisher: Oxford University Press
Country of Publication: UK
Format: Hardback
Price: £86.00

Despatched in 5 to 7 days.
International legal positivism has been crucial to the development of international law since the nineteenth century. It is often seen as the basis of mainstream or traditional international legal thought.
The Project of Positivism in International Law addresses this theory in the long-standing tradition of critical intellectual histories of international law. It provides a nuanced analysis of the resilience of the economic-positivist theory, and shows how influential its role was in shaping the modern frameworks of international law.
The book argues that the rise of positivist international law was inseparable from philosophical developments placing the notion of conflict of interests at the centre of collective life. Where previously international thought was dominated by notions of the right, the just, and the good, increasingly international relations became viewed as 'interests' in need of harmonisation.
In this context, international law was re-founded as the universal law that could harmonise the interests of both public and private international entities. The book argues that these evolutions in philosophical thought were bound up with the consolidation of capitalism, and with the ideas about human existence and human nature which emerged in that process.
It provides an innovative analysis of the selected biography of ideas which it presents, including a detailed focus on the work of Hans Kelsen, one of the leading positivist thinkers of the twentieth century. It also argues that the work of Lassa Oppenheim should be included within this analysis, as providing some of the key founding texts of positivism in international law.
This book will be a fascinating read for scholars and students of international legal theory, historians of ideas, and legal philosophers.