Employee Competition: Covenants, Confidentiality, and Garden Leave 3rd ed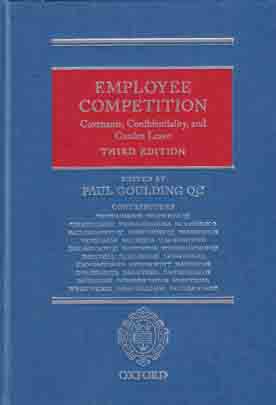 ISBN13: 9780199685752
Published: March 2016
Publisher: Oxford University Press
Country of Publication: UK
Format: Hardback
Price: £150.00

Employee Competition: Covenants, Confidentiality, and Garden Leave is a leading authority for employment law practitioners and human resource professionals alike.
It provides detailed and comprehensive analysis of the issues encountered in contentious and non-contentious work concerning all forms of competition by employees, directors, partners, LLP members, and others. Cited in numerous judgments, this work is widely recognised as the first port of call for all employee competition cases.
Written by a team of expert practitioners from Blackstone Chambers and Olswang, the book combines an authoritative account of the substantive law with an overview of the relevant procedural issues.
Topics covered include good faith, fiduciary duties, confidential information, garden leave, and restrictive covenants. Comprehensive coverage of available remedies (including injunctions, damages, and account of profits) ensures that the book is of real, practical value to practitioners.
This new edition has been substantially revised to take into account the wealth of litigation and resulting case law that has emerged since the previous edition published in 2011. New chapters on team moves and economic torts and liabilities of third parties have been included to reflect the increasing importance of these areas in practice.
Significant changes will also be covered in the areas of contractual and fiduciary duties of loyalty; confidentiality and database rights; restrictive covenants and deferred remuneration schemes; jurisdiction and applicable law; liquidated damages and penalties; and procedure, especially in relation to injunction applications, disclosure, and costs.
Containing checklists, material on drafting, and sample clauses at the end of each chapters, as well as appendices identifying key decisions in the field, this work provides a practical and user-friendly guide to employment covenants.