The WIPO Treaties on Copyright: A Commentary on the WCT, the WPPT, and the BTAP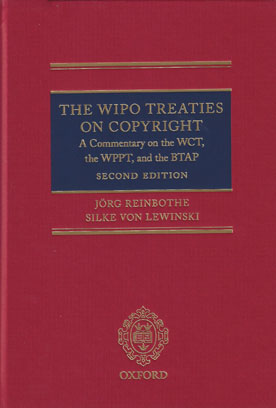 ISBN13: 9780199686940
Published: March 2015
Publisher: Oxford University Press
Country of Publication: UK
Format: Hardback
Price: £202.50

This work is the leading guide to the WIPO Copyright Treaty (WCT), the WIPO Performances and Phonograms Treaty (WPPT), and the Beijing Treaty on Audiovisual Performances. Ten years have passed since the enforcement of the WCT and the WPPT.
This revised commentary on the treaties reflects on the impact of their implementation and illustrates how they have come to be applied in different ways for example through national legislation, bilateral agreements, and in parts of free-trade agreements.
It gives a detailed analysis of the development and meaning of all articles of these treaties and integrates current debates on copyright and neighbouring rights protection in the digital age. Written by two leading experts in copyright law, both closely involved in the evolution of the treaties and their implementation into national and EU law, this work is the definitive guide to the recently adopted international copyright treaties.